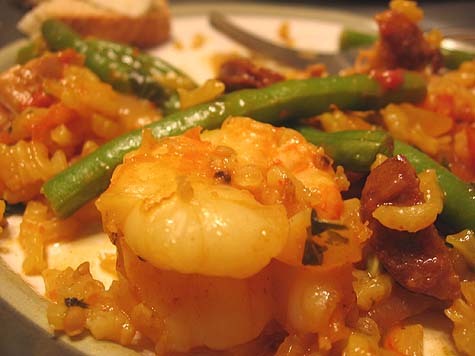 Need make 8 (or more) people very happy at a party? This zesty Party Spanish Paella For a Crowd from the folks at Je Mange la Ville might be the answer to your prayers.
As I discovered years ago in Spain, after a long day of hard work under the merciless sun, soul-healing paella and good wine can be a truly magical combination.
This recipe isn't exactly the simplest recipe that I've ever shared here. However, if sophisticated comfort food full of savory goodness your friends and family can taste is what you're after, this wonderful Spanish paella recipe is more than worth the effort.
Looking for something simpler to make that still captures the sunny flavors of Spain? You won't want to miss this easy, original recipe for Spanish Style Garlic Shrimp With Capers.
Let the healing begin!
Ingredients:
1 tbsp smoked paprika
2 tsp dried oregano
1 lb chicken thighs
2 tbsp extra-virgin olive oil
2 Spanish chorizo sausages, thickly sliced
Kosher salt and freshly ground pepper
1 white onion, diced
6 garlic cloves, sliced
1 bunch parsley, chopped
1 yellow bell pepper, seeded, cored and diced
1 (15-ounce) can whole tomatoes, drained and roughly chopped, or 1.5 cups chopped fresh tomatoes
2 cups short grain Spanish rice
6 cups chicken stock
Generous pinch saffron threads
1 pound jumbo shrimp, peeled and de-veined
1 cup green beans, trimmed and cut into 1.5 inch pieces
1 roasted red bell pepper, cut into strips
Optional: 1 long strip of orange zest
How to Make Party Spanish Paella For a Crowd.
Enjoy!
You can also see our list of delicious seafood recipes, organized by type of fish to help you eat more seafood throughout the year.
Also, here's some convenient links to our first 100 Original Recipes on Hugging the Coast to make it easier for you to find culinary inspiration and ideas.
Please join us tomorrow to see this week's culinary Weekend Video Spotlight, Southern Comfort Foods: How to Make Easy Fried Green Tomatoes.
If you liked this article on HuggingtheCoast.Com, you might also enjoy:
(Photo Credit: All Fish For Friday Recipe of the Week photos are courtesy of the featured blog, in this case, Je Mange la Ville.