Have your friends or relatives just kinda sorta invited themselves over your house at the last minute?
Below is a wonderful seafood appetizer recipe for Salmon and Cream Cheese Crepe Appetizers from the folks at Janet is Hungry that will delight your intruders, er–guests.
The most exotic ingredient you'll need to make these Salmon and Cream Cheese Crepe Appetizers is (wait for it) a humble can of salmon, so if you always keep a few cans in the back of your kitchen cabinet you'll never really be surprised by last minute company.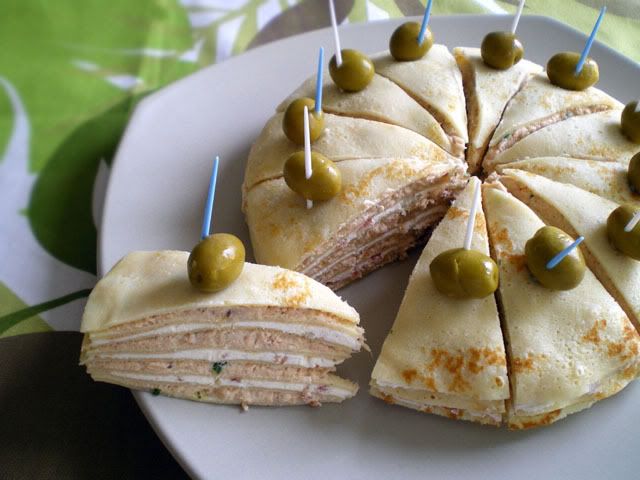 Ingredients for the Crepes:
1 cup flour
3 eggs
1 tsp salt
1 1/2 cups milk
3 tbsp butter melted and cooled
Salmon Layer Ingredients:
1 can salmon
1/4 cup mayo
1 tbsp chopped chives
pepper to taste
Ingredients Cream Cheese Layer:
6 oz cream cheese (3/4 of an 8oz package - did I need to say that?)
2 tbsp mayo
4 slices bacon crumbled (you can omit this for Lent if you observe it)
How to Make Salmon and Cream Cheese Crepe Appetizers.
Enjoy!
You can also see our list of delicious seafood recipes, organized by type of fish to help you eat more seafood throughout the year.
Also, here's some convenient links to our first 100 Original Recipes on Hugging the Coast to make it easier for you to find culinary inspiration and ideas.
Please join us tomorrow to see this week's culinary Weekend Video Spotlight: If the Hitchcock Film, The Birds Was Made With Yellow Peeps.
If you liked this article on HuggingtheCoast.Com, you might also enjoy:
(Photo Credit: All Fish For Friday Recipe of the Week photos are courtesy of the featured blog, unless otherwise noted.)