Here's an incredibly easy, last minute New Years Eve party friendly appetizer recipe for Easy Last Minute Baked Goat Cheese from the folks at Yumsugar.
After you make this, all you'll need is some crusty bread or your favorite crackers or chips to complete this addictive party dip.
Here's to the start of a great new year!
Enjoy!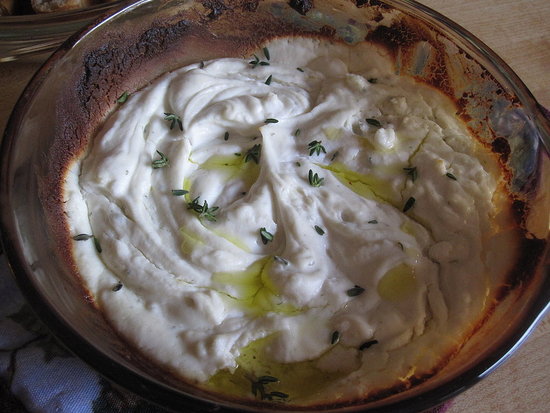 Ingredients:
8 to 12 ounces marinated goat cheese or feta, broken into large chunks
2 to 3 teaspoons olive oil
4 to 5 sprigs fresh thyme
Sliced baguette or crackers, for serving
How to Make Easy Last Minute Baked Goat Cheese.
You can also see our growing list of delicious party appetizer recipes, to help inspire your gatherings with friends and family throughout the year.
Also, here's some convenient links to our first 100 Original Recipes on Hugging the Coast to make it easier for you to find culinary inspiration and ideas beyond appetizers.
Please join us tomorrow to see our latest daily food and cooking article, Seafood Cobbler With Potato Dumpling Crust Recipe (Fish For Friday Recipe).
If you liked this article on HuggingtheCoast.Com, you might also enjoy:
(Photo Credit: All Party Appetizer Recipe photos are courtesy of the featured blog.)