If you're like me, whenever you remember the amazing cuisine of New Orleans you can't help thinking about a traditional Louisiana crawfish boil; a culinary event guaranteed to make you thankful you're alive, blessed with a strong appetite, with a set of tastebuds in good working order.
Attending a good crawfish boil (and if you ask me, they're all good) is a great way to keep the spirit of Thanksgiving alive, only with much better weather and far less formality.
Elbow deep in succulent, zesty crawfish, leaning on a sunny table covered in newsprint, one literally has to dig in to make the most of the garlicky bounty. Crawfish are the perfect finger food, but a crawfish boil is a finger bowl free zone so prepare to get a bit messy.
Also known as crawdads, crayfish, and mud bugs, whatever you call them, don't let the name you call them interfere with some seriously good eating.
How to Throw a Traditional Outdoor Crawfish Boil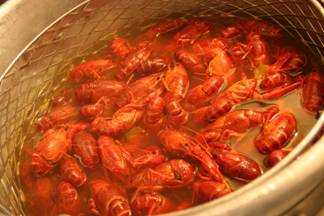 When it comes to holding a delicious crawfish boil, the crawfish are the stars of the show, but such supporting characters as garlic, onions, lemons, sausage (depending on whether it is Lent), and whatever vegetables the cook feels like including all play an important part in adding the improvised, yet essential flavor that give each crawfish boil it's own particular accent.
This improvised lagniappe (or a little something extra) reflects the resourceful spirit that makes both Cajun and Creole cuisine so wonderful.
You can find out how to pick and choose the lagniappe ingredients for your own crawfish boil on this page at Crawfish.Com (as well as what you can do with the leftovers, should you be lucky enough to have any).
To get a sense of what goes into putting together a proper crawfish boil, you also won't want to miss this video by Cajun Wife which shows how she puts together a crawfish boil in her hometown of Arnaudville, Louisiana.
For an overview of the practical side of things, you'll want to see this helpful page on What's Cooking America which shares good recipes and tips about holding an enjoying a crawfish boil, as well as how to prepare and purge (clean) the crawfish so they'll be at their flavorful best.
How to Hold a Delicious Variation of the Crawfish Boil Indoors
Alas, unless you happen to live in Louisiana or the South, holding a large scale crawfish boil may not be practical for you. But don't despair! There's still room for you at the table, although you'll first need to make a few modifications and then bring it indoors!
The best place to find out how to hold a crawfish boil indoors is on this page at Cajun Chef Ryan's website. There you'll find Chef Ryan Boudreaux's recipe for an indoor crawfish boil as well as his personal insights on the boil experience itself and its place in Southern culture.
Finally, here's some lessons learned from Homesick Texan's first crawfish boil that should make your experience go easier if you're throwing a crawfish boil indoors and up North.
Depending on where you are, the joy of throwing one may take some doing, but it's a culinary experience you (and your happy tummy) won't soon forget.
Enjoy!
Please join us tomorrow to read our newest daily food and cooking feature on HuggingtheCoast.Com.
If you liked this article on HuggingtheCoast.Com, you might also enjoy:
(Photo Credits: Crawfish! by Adam Melancon, Crawfish Cooking by Cajun Chef Ryan, and Boiled Crawfish and Boiled Peanuts by bobdornberger.)