Having been raised in an Italian household, pasta is, for me, more than a food. It's a requirement. Sort of a Vitamin P, if you will. If I don't eat it on a regular basis, I actually become nervous and unfocused, and I begin to wonder if I'm coming down with something. But it's nothing that a big bowl of linguine won't cure.
(Incidentally, I've made a provision so that when I die, instead of coins, I'll have round Celantano cheese ravioli placed on my eyes. Sure, I may not be able to pay the ferry man, but at least I'll have a tasty snack in the afterlife!)
Below are some of the lesser-known pasta shapes that deserve a little time in the spotlight. Give them a try sometime instead of the old standbys and you might find yourself with a new favorite.The last one is a cautionary tale. Take my advice: eat before you read it!
Some of my favorites:
Campanelle
("Bellflowers"; frilled, flower-shaped pasta cones)
After reading the essay "Spaghetti Carbonara Day", Calvin Trillin's persuasive proposal to change the national Thanksgiving dish from Roast Turkey to Spaghetti Carbonara, I was seized by an unrelenting need to cook a heaping batch of it immediately. Miraculously, I had most of the ingredients on hand – pancetta, Fontina cheese, eggs – but, oddly, no spaghetti! I did, however, have a box of a Barilla shape that I'd never tried before, so I gave it a spin. The prettily turned and frilled shape of the "bellflowers" was perfect for the dish, and some sort of magical alchemy took place that evening: it was the very best Carbonara I've made, before or since.
Pastina (Flickr Photo)
(Small beads or stars of pasta, similar to acini de pepe)
Many biblical historians are unaware of this, but Jesus carried with him a steaming bowl of pastina in homemade chicken soup into the tomb where Lazarus lay.  Coincidence? Maybe. But pastina is just the sort of thing to revive one's spirit – no matter how separated from it one has become.
It's also a great way to feed the multitudes. Cook up a small box of it in a large pot of stock and turn your back for a minute: you'll find that the pastina has done to the stock what a ShamWow does to unsuspecting liquids on those infommercials. Except, of course,  the pastina is a lot tastier. After it's cooked, stir in some butter and you've got a world-class comfort food.
Gemelli
("Twins"; short, twisted strands of pasta)
Gemelli are a fun and underappreciated pasta shape. They are just right for meaty sauces and they hold grated cheese like a magnet holds iron filings. They're satisfyingly dense and were a favorite of my Italian grandmother.
Ditalini (Flickr Photo)
(Short cuts of tubular pasta)
Ditalini is the go-to pasta for stews and vegetable soups, like minestrone. But Ditalini shines brightest in Pasta e fagiloli ("pasta with beans", AKA "pasta fazool".) When you make it, keep it simple: olive oil, garlic, onions, white beans, a little sage, some grated cheese, maybe a little tomato, maybe some pancetta or an unsmoked ham hock for flavor, but not much else. Make a lot of it, though – it's addictive stuff!
I love orzo so much that I entered an orzo "paella" in Tillamook Cheese's Macaroni & Cheese Recipe Contest.
They didn't pick it, but hey, it went over really, really well around here (translation: it was so good, we ate it until we were no longer able to lift a fork. Or ourselves.)
Cavatelli (Flickr Photo)
(Small, folded pasta discs)
There are two types of cavatelli: the hard, dried type you find in a box on a shelf, and the softer type, made with ricotta, that you find in the frozen foods section. If you've never had them, seek the latter ones out immediately. They cook up dense and chewy and cheesy and they hold sauce like a mother cradles a newborn: gently, but definitively.
Spaghetti alla Chitarra
("Guitar spaghetti"; square spaghetti made with egg)
Golden yellow in color and chewier (and more filling) than regular spaghetti, it gets its name from the steel wire device used to cut the dough.
This Spaghetti al Limone recipe is an ideal sauce to accentuate the egg flavor while lightening the richness of this unusual pasta.
And now, the one that made me gag…
Boccolotti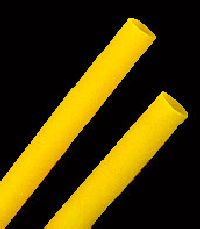 I should have known this was going to be one of those 'bargains' where you find out – the hard way, of course – why it was so cheap. Why would a store close out a very expensive imported bronze-cut Italian pasta at two-for-a-dollar? Foolishly, I didn't stop to ask that question as I greedily loaded up on my 'bargain' pasta. I'd never seen this long, thick, tubular shape before, but hey, it was the good stuff – and it was cheap.
Of course, I chose to debut this interesting new shape at a dinner party. And, of course, I chose to make a marinara. Are you getting the picture yet?
When cooked, Boccolotti look almost exactly like the snappy latex tubing that hospitals and junkies use to make veins pop out before a needle stick. Worse (much, much worse) than that, when cooked and then sauced with a marinara, they look like (and there's no nicer way to say this) a plate full of squishy, bloody arteries. Yum!
Hannibal Lecter may have asked for seconds, but my guests didn't. In fact, we tried to laugh it off, but none of us could get through even that first gruesome plate.
I don't remember what we ended up eating after that Pasta Course of the Living Dead, but I do remember my final mistake of the evening. Without going into detail, I will say this: watching your sweet-natured, happy-headed dog trying gamely to eat a bowl full of squishy, bloody arteries isn't nearly as amusing as it might sound.
In fact, it's kind of unnerving.
(Photo Credits: Campanelle with Summer Veggies by citymama, Home Cooking: Vegetable Gemelli by panduh, Orzo Stuffed Bell Peppers by k. segars, Spaghetti alla Chitarra by gotico latino, Boccolotti by Food-Info.Net.)
Please join us for tomorrow's edition of our special Seafood and Pasta Series when we'll share our original recipe for Four Cheese Mac-A-Rita Cocktails.
If you liked this article on HuggingtheCoast.Com, you might also enjoy: