Here's a simple yet sophisticated recipe for Salmon, Mango and Rice Casserole from the folks at Je Mange la Ville.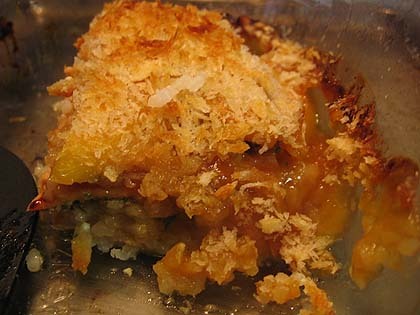 Ingredients:
2 salmon fillets (about 1 pound total)
2 mangoes, sliced
2 cups cooked brown or white rice
2 cups orange mango juice
1 tbsp lemon juice
1/4 tsp ground ginger
1/3 cup brown sugar
3 tbsp soy sauce
1/4 tsp Worcestershire sauce
1 tsp Asian chili-garlic hot sauce
2 1/2 tbsp corn starch
1/2 cup Panko bread crumbs
Non-stick canola oil cooking spray
How to Make Salmon, Mango and Rice Casserole
See More of Hugging the Coast's Fish For Friday Recipes which will help you make the most of your favorite seafood during the rest of the year.
You can also see our list of delicious seafood recipes, organized by type of fish to make it easier for you to find culinary inspiration and ideas.
Please join us tomorrow to see this week's culinary Weekend Video Spotlight.
If you liked this article on HuggingtheCoast.Com, you might also enjoy:
(Photo Credit: All Fish For Friday Recipe of the Week photos are courtesy of the featured blog.)