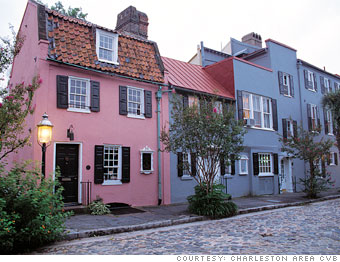 In a recent New York Times article, Charleston on the Cheap, Chris Dixon focuses on a few of the simpler pleasures of a visit to the Holy City.
As it says in the article:
"Many of the area's most captivating historic attractions are essentially free. Beaches and an outstanding farmers' market are open to all, and the sweet tea and fabulous food can be found in off-the-beaten-path restaurants well known to the locals. With some careful shopping in advance, even a hotel room or condo can be affordable."
I was particularly pleased that they mentioned J.B.'s Smokeshack, a down home, creaky doored barbecue shack I visit when I want to load up on hickory smoked barbecue pork, hash and rice, okra gumbo, and their deliciously rich pluff mud or chocolate eclair puddings.
Other restaurants mentioned in the article include such local favorites as the Folly's Lost Dog Cafe and the Mustard Seed on Maybank.
For those that don't live in here, the article goes on to share some inexpensive places to stay in the Charleston area, as well as a few off the beaten path attractions on James and Johns Islands that won't break your vacation budget.
You can read more of the New York Times article here.
Charleston was also named one of Fortune Magazine's 100 best places to live and launch on their recent 2008 list.
For those that enjoy golf, nearby Mt. Pleasant, SC was named one of the 10 best retirement spots for golf nuts by U.S. News & World Report.
As it says in the article:
"Located just outside historic Charleston, S.C., Mount Pleasant has 30 courses close at hand. And since it's within day-trip distance of two South Carolina golfing havens—90 miles from Myrtle Beach and 110 miles from Hilton Head Island—boredom is one obstacle you'll never face on the links…"
Other South Carolina cities that have recently won awards include Greenville, Aiken, and Rock Hill which were all recognized as one of the best places to live in America by RelocateAmerica.Com. Charleston also made the list.
Please join us tomorrow to read our newest food and recipe cooking feature on HuggingtheCoast.Com from author Doug DuCap.
If you liked this article on HuggingtheCoast.Com, you might also enjoy: