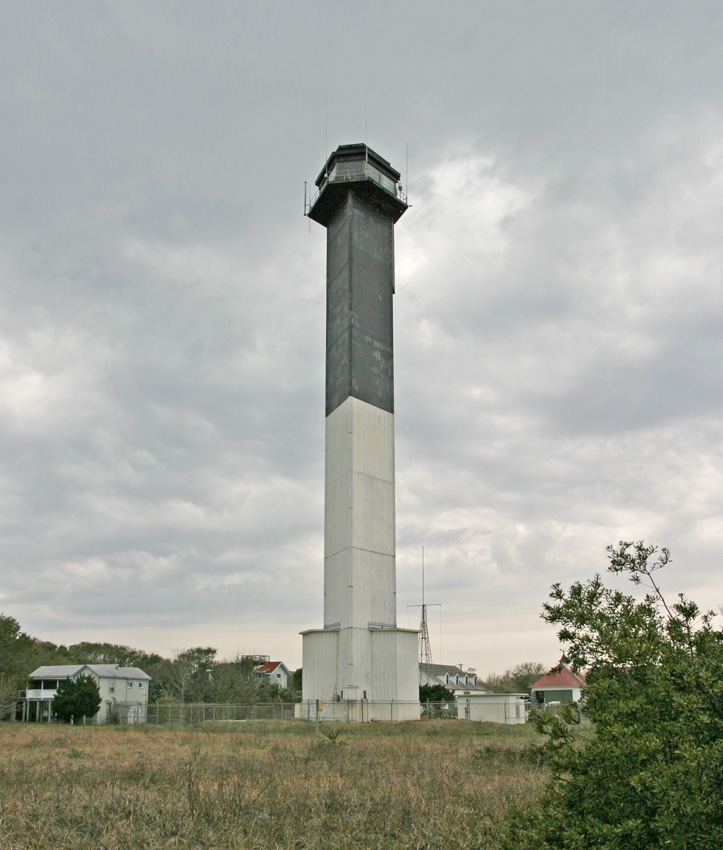 With its sleek modernist lines reminiscent of Bauhaus architecture, South Carolina's Sullivan's Island Lighthouse may be less charming than its neighbor, the Morris Island Lighthouse, however it still provides a useful service.
According to the Sullivan's Island Lighthouse Page at LighthouseFriends.Com:
"When erosion threatened the Morris Island Lighthouse, located south of the entrance to Charleston Harbor, the decision was made to place a replacement beacon on Sullivan's Island, north of the harbor's entrance. Although the triangular tower, built of concrete and steel and clad in a skin of aluminum, doesn't have much Southern charm, it does have some redeeming qualities. Inside the tower, the keepers of the light are treated to air conditioning and an elevator that can quickly whisk them skyward. After the elevator ride, it is still necessary to scale a small staircase to reach the lantern room, where a powerful light source is housed. Originally, the light produced an amazing 28 million candlepower, but this powerful beam proved dangerous and was downgraded to a light of just over a million candlepower that has a range of twenty-six miles."
By the way, with the exception of Boston Light, the oldest station in America, all lighthouses in the U.S. are fully automated, although some properties may have on-site caretakers to help prevent vandalism or to run tours through the facility.
You can read some interesting lighthouse trivia here. If you're interested in learning more about the historical role played by lighthouses in both South and North Carolina, you can read excerpts online from Terrance Zepke's book, Lighthouses of the Carolinas: A Short History and Guide.
Want a taste of what it's like to live in a lighthouse? Below are 3 cookbooks full of recipes from lighthouse kitchens,
Please join us tomorrow to read our newest daily food and cooking feature on HuggingtheCoast.Com.
If you liked this article on HuggingtheCoast.Com, you might also enjoy: