Looking for a savory and sophisticated recipe you can whip up in 60 minutes or less? Try making this recipe for Simplified Fish Bouillabaisse from the folks at La Tartine Gourmande.
Ingredients:
8 large fresh scallops
8 large fresh shrimps
14 oz white fish (firm and softer such as monkfish and tilapia)
14 oz fresh salmon
Squids and fresh mussels (optional)
10 fingerling potatoes, (I particularly like those ones because they are very tasty and firm)
10 saffron threads
4 roma tomatoes
1 cup chunks of celery root
1 sweet yellow onion
3 garlic cloves
4 1/4 cups fish stock
2/3 cup dry white wine
Fresh coriander
Fresh flat parsley
Fresh tarragon
Fresh grated parmesan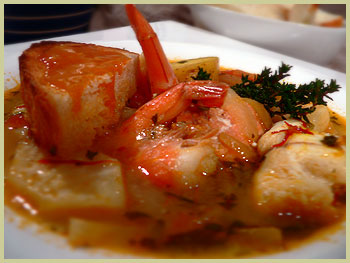 For the rouille:
1 garlic clove
Olive oil
1 egg yolk
1 tsp harissa
1 ts tomato paste
Salt and pepper
1 tbsp fresh lemon juice (optional)2 cups baby spinach
1 tbsp shallot (1/2 shallot)
2 strips smoked bacon
6 tbsp sherry (preferably a cream sherry)
1/3 cup apple juice
12 whole scallops
3 tbsp clarified butter
1/4 tsp Kosher salt - can substitute with 1/8 tsp. table salt
1/4 tsp white pepper
2 tbsp non clarified butter
1 pinch fleur de sel (for garnish)
How to Make Simplified Fish Bouillabaisse
See More of Hugging the Coast's Fish For Friday Recipes which will help you make the most of your favorite seafood during the rest of the year.
You can also see our list of delicious seafood recipes, organized by type of fish to make it easier for you to find culinary inspiration and ideas.
Please join us tomorrow to see this week's culinary Weekend Video Spotlight.
If you liked this article on HuggingtheCoast.Com, you might also enjoy:
(Photo Credit: All Fish For Friday Recipe of the Week photos are courtesy of the featured blog.)