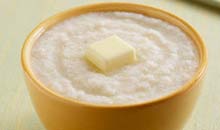 "Late last year I went on a mammoth eating adventure around the southern United States. I've banged on at length about Charleston's grub here, after my shock at hearing about Bill Clinton letting his grits go cold (come on Bill, an Arkansas boy should know better). But I haven't mentioned the amazing food I had elsewhere in the South. And that's just rude."
In the story, Susan Smillie of the UK newspaper The Guardian, enjoys the Southern hospitality of Atlanta where she eats (among many other delicious things) Carolina gold rice soup with grilled quail, peanuts, and scallions and New Orleans (where she eats jambalaya and explores the myriad joys of andouille sausage).
The trip starts in South Carolina, where she eats savory shrimp and grits at Charleston's Old Village Post House and tender lamb glazed with chocolate barbecue sauce at Tristan's.
You can read more of her story here.
Please join us tomorrow to read our newest daily food and cooking feature on HuggingtheCoast.Com.
If you liked this article on HuggingtheCoast.Com, you might also enjoy: